Vino ~ The Fruit of the Vine
Wine By the Glass...by the Bottle
Corkage is $20 per bottle. There is two bottle limit per reservation
We love wine and are always curating our list with a wide variety of wines from
California vineyards and international regions to traditional Italian appellations.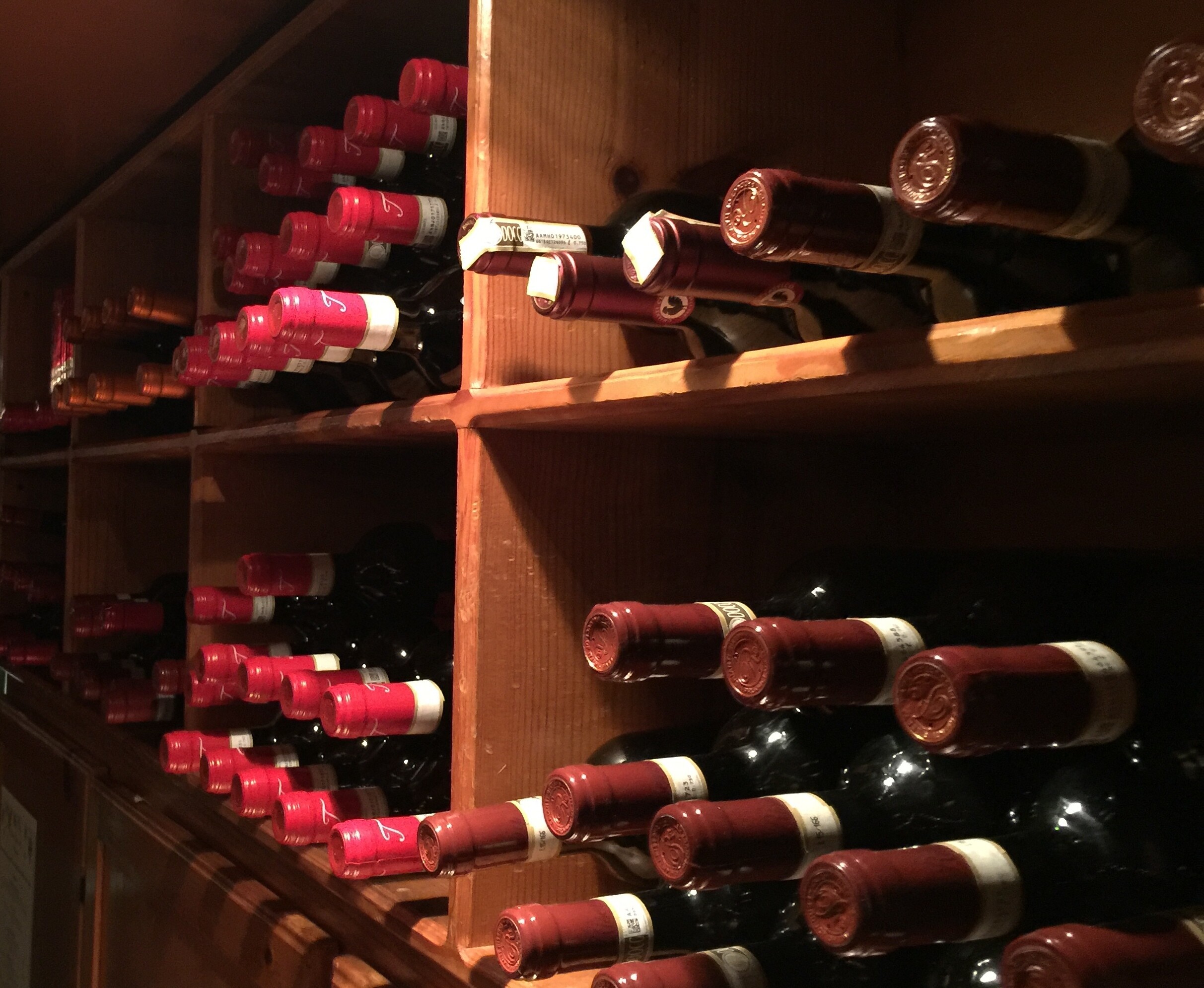 Reds
Smooth Reds from Northern California and international regions to classic old vine fruit forward Italian appellations
Chianti

Toscolo 2019 Tuscany

Chianti Classico

Lamole Di Lamole 2019 Tuscany

Chianti Classico Riserva

Villa Antinori 2016 Tuscany

Sangiovese

Sassoregale 2019 Tuscany

Super Tuscan

Frescobaldi Remole 2020 Tuscany

Brunello

Selenito 2015 Montalcino

Amarone

Masi Costasera 2015 Veneto

Valpolicella

Allegrini Bonacosta 2019 Valpolicella

Montepulciano D'abruzzo

Terre Di Eva 2020 Abruzzo

Primitivo

DM Estate Vineyards 2019 Puglia

Nero D' Avola

Amira 2018 Sicily

Super Sicilian

Incanto 2020 Sicily

Barbera D' Alba

Cascina Tiole 2017 Piedmont

Nebbiolo

Villadoria Bricco Magno 2017 Langhe

Barolo

Cascina Tiole 2016 Piedmont

Lambrusco

Reunite 2017 Italy

Cabernet Sauvignon

Bonterra 2020 California

Cabernet Sauvignon

Treana 2020 Paso Robles

Cabernet Sauvignon

Hanna 2018 Alexander Valley

Cabernet Sauvignon

Far Niente Post & Beam 2019 Napa

Malbec

AR Guentota 2017 Mendoza

Merlot

Dusted Valley 2019 Columbia Valley

Pinot Noir

Angeline 2020 California

Syrah

Stanger 2019 Paso Robles

Zinfandel

St. Francis 2018 Sonoma
Whites
Chilled… light and fruity to dry and full-bodied
Pinot Grigio

Cavaliere d'Oro 2019 Veneto

Pinot Grigio

Zaccagnini 2021 Abruzzo

Verdicchio

Bucci 2019 Marche

Gavi de Gavi

Villa Sparina 2020 Piedmont

Trebbiano

Fantini 2020 Abruzzo

Vermentino

Poggio al Tessoro 2020 Tuscany

Red Moscato

Mosketto Italy

Moscato

Marchese 2019 Piedmont

Sauvingon Blanc

Yealands 2020 Marlborough

Chardonnay

Bonterra 2020 California

Chardonnay

Michael David 2020 Lodi

Chardonnay

Casa Valduga 2019 Brazil

Rose

Fleur de Mer 2020 France

Riesling

Chateau Ste Michelle 2021 Columbia Valley

Prosecco

Canella 750 ml Veneto

Prosecco

Canella Split 187 ml Veneto

Sparkling Rose

Zonin Split 187 ml Italy
Dessert
Pefect after dinner pairing with our housemade desserts.
Dessert Wine

Casa Valduga 1875 10 yr. Brazil

Port

Graham's Six Grapes Ruby
Our Wine Program
We are passionate about our wines
Our family made wine in the hills of Abruzzi, Italy so it's no wonder we have a passion for the fruit of the vine. For us excellent wine is a cornerstone of an Italian meal, some say as important as the dishes themselves. Our wine program is an integral part of Cantalini's dining experience and we are committed to bringing you interesting, delicious and carefully chosen wine selections to pair with our traditional Italian cuisine. Our servers are knowledgeable and can offer recommendations so feel free to ask.
Cantalini's Wine Maker Dinners
Explore, Taste and Enjoy!
Throughout the year we bring the best wine makers to Cantalini's Salerno Beach offering you the opportunity to explore, taste and enjoy new selections to enhance and expand your wine enjoyment. Our wine dinners are specially curated events by Executive Chef Lisetta Maria pairing our authentic Italian fare with the Vintner presented that evening. These are magical evenings where Cantalini's hospitality shines, new friends are made and the love and passion for delicious Italian and vino come together. Don't miss out!